November 25th, 2019 § Comments Off on The Star § permalink
A Graffiti Star …
November 25th, 2019 § Comments Off on Tarot Card of the Day – 11/25/19 § permalink
Monday, November 25, 2019
#9 – The Hermit
You might find yourself wanting to spend some time alone today. It's probably a good idea. Take time to look within and see what's up inside your soul.
Have things been moving pretty fast lately? Don't worry, it's finally going to slow down a bit, giving you a moment to clean house and tie up loose ends.
Trust your own experience through this period. It's through an examination of your own personal journey that you'll discover your inner wisdom. You probably know a lot more then you give yourself credit for. But you might need some silence to notice.
Give yourself permission to be quiet. You won't be missing anything by taking a break. It'll only make things more fun when you finally re-emerge from your cave.
November 24th, 2019 § Comments Off on Moon in Scorpio – High Priestess in Death's Clothing § permalink
The moon moves into Scorpio today and stays there until Tuessday.
If you translate this transit into the Tarot, you could say that the High Priestess is dressed as Death. She's in the midst of a great transformation.
The Moon in Scorpio, or High Priestess in Death's clothing, suggests a time when feelings run deep. The ability to end relationships that don't work, or release stagnant emotions is accentuated.
If there's a situation in your life that's nearing its completion, especially if it's emotional or relationship-oriented, this might be a good time to let it go. At least explore it with emotional clarity.
This isn't a time to be afraid, but rather a time to face your fears with equanimity and intelligence.
You've got what it takes. Don't back down from the scary stuff.
November 24th, 2019 § Comments Off on Tarot Card of the Day – 11/24/19 § permalink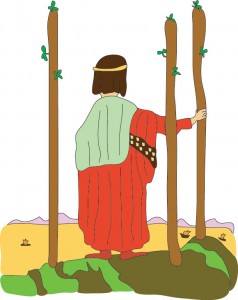 Sunday, November 24, 2019
3 of Wands
Waiting and watching will probably be a bit of a preoccupation today. You've begun the process and have done all you can for the moment.
This might be a good time to review the steps you've taken so far. Make sure that you've got yourself balanced before the real journey begins.
Virtue is likely to be a key concept. Virtue here means being true to yourself within and between all your layers – mind, body and spirit.
Are your emotions in line with your thinking? Are you acting in a way that accurately reflects you're beliefs and feelings? Explore these questions and relax. Your ship will arrive soon.
November 23rd, 2019 § Comments Off on Princess of Disks § permalink
A Graffiti Princess of Disks …
November 23rd, 2019 § Comments Off on Tarot Card of the Day – 11/23/19 § permalink
Saturday, November 23, 2019
#17 – The Star
Optimism and rejuvenation are the themes for the day. Active generosity and compassion come easy so don't hold back. Give and you will receive.
Embrace the Universe's capacity to provide you with what you need when you need it most. That's what miracles are and the Star is the goddess of miracles.
If things have been tough lately, now's a time when you can finally lean back and take a bit of a break. Surround yourself with as much beauty as you can. It will help to replenish your soul.
Art, music, and the glory of the night sky are all worthy subjects of meditation. Let them fill you with the inspiration you need for the next leg of your journey.
November 22nd, 2019 § Comments Off on Moon in Libra – High Priestess in Justice's Clothing § permalink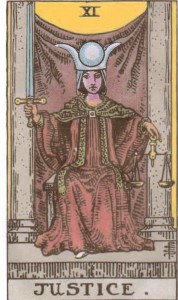 The Moon moves into Libra today, and will stay there until Sunday.
Looking at this transit through the lens of the Tarot, it would be like the High Priestess is wearing Justice's clothing. She takes on the mantle of the Karmic Decider.
With the High Priestess as Justice, or the Moon in Libra, we might be required to face up to something and decide.
Our emotions will demand respect. If we've leaned too far back or forward, we'll probably find ourselves moving just as dramatically the other way.
It can be a slightly challenging period, perhaps a little manic. But by the time it's done, something is likely to have been decided upon.
Don't be alarmed by conflicting emotions. They're there because you can see both sides. It's not good enough though to just acknowledge them and walk away.
During this transit you're being asked to take a stand one way or another. And you've got the wisdom and power to do so.
November 22nd, 2019 § Comments Off on Sun in Sagittarius – Sun Dressed in Temperance's Clothing § permalink
The Sun moves into Sagittarius today and will be there until December 22nd.
If we look at this transit from a Tarot perspective, it would be like the Sun is dressed as Temperance. He's done up like an angel and is playing with water.
The Sun in Sagittarius, or the Sun dressed as Temperance, is a time of energetic harmony and balanced enthusiasm.
Use it to expose any imbalances that might be tilting you off kilter and gently readjust as required.
Have fun with the world around you, and be open to connections beyond the five senses. Preconceived ideas of what's possible will only hold you back.
We can't always see divine energy at play. Then the Sun shines just right and a rainbow appears.
November 22nd, 2019 § Comments Off on Tarot Card of the Day – 11/22/19 § permalink
Friday, November 22, 2019
King of Wands
Creative vision, a fiery temperament, inspirational thinking – it could be an exciting day. You have the capacity to focus your passionate energy into something constructive.
If it's been difficult to get going with an enterprise that really matters to your soul, this is a great day to clear through the cobwebs. Take your fire and run with it.
But don't forget to enjoy your strength wisely. No one likes a tyrant. Get to work on your goal, but don't assume that everyone else is going to follow your lead. They might be feeling a lot like you are today and are probably looking for some followers themselves.
November 21st, 2019 § Comments Off on Tarot Card of the Day – 11/21/19 § permalink
Thursday, November 21, 2019
Ace of Disks
Start that new project now! I know it's just the beginning and you can hardly see how it's going to manifest, but manifest it will. The Ace of Disks is the seed that begins all new physical realities.
Is it a new job? A novel approach to an old one? Trying to get a project off the ground? Starting a new workout or eating regime?
It doesn't matter if you don't have all the details yet. What's important right now is to start working. Do it with the confidence that it's going to succeed – in the real world.
All great trips require a first step. This is the opportunity you've been waiting for. Take the step and start the journey.