June 14th, 2021 § Comments Off on The Moon § permalink
June 14th, 2021 § Comments Off on Tarot Card of the Day – 6/14/21 § permalink
Monday, June 14, 2021
#19 – The Sun
What a good day! Enjoy! After the long journey you've finally managed to get to the other side of the night.
There's no need to be shy – express yourself and let everyone see you smile.
You have confidence now and boundaries no longer pen you in. Creativity carries you forward as if in a dream.
Focus your imagination and you can manifest what you will. Be open, free and alive.
June 13th, 2021 § Comments Off on Moon in Leo – High Priestess in Strength's Clothing § permalink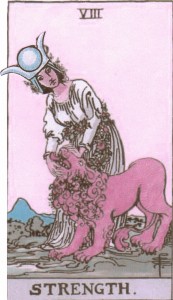 The Moon moves into Leo today and stays there until Wednesday.
Translated into Tarot cards, this transit would be like the High Priestess is wearing Strength's clothing. She's thrown off her heavy cape and is spending some time outside with her lion.
The Moon in Leo, or High Priestess in Strength's clothing is potentially a time of emotional power. Something beautiful that's usually under wraps can finally be revealed.
The silence is broken. Quiet wisdom and passion can be united. During this time, it might be difficult to keep your ideas to yourself. But why should you?
Try finding an outlet for plans you've been sitting on? This is an opportunity to shine if you're not over-burdened by self-consciousness.
It might feel a little uncomfortable at first, but letting your wilder side out right now could be positive. The sun isn't always shining. Take advantage of it when it does.
June 13th, 2021 § Comments Off on Tarot Card of the Day – 6/13/21 § permalink
Sunday, June 13, 2021
2 of Wands
This is a day for looking forward. You've got some time and you're in a good position to look around and see what you want to do next. The world is literally in your hands and it's up to you to decide the next move.
What is it that makes you feel most in control of your domain? What is it that makes you feel you're really doing what you're supposed to be doing?
Don't rush this – it takes some serious consideration. Use this time to start getting a grip on your destiny. You're in charge of this one. Don't be afraid to take control. Your option is to let someone else.
June 12th, 2021 § Comments Off on Mars in Leo – The Tower Strikes Strength § permalink
Mars moves into Leo today and will be there until July 29th.
Looking at this transit from a Tarot perspective, it would be like the Tower is tumbling around Strength and her lion.
Mars in Leo, or the Tower falling around the Strength's feet can be a time of chaos contained.
Tempers might flare as unexpected situations arise, but you have the power to deal with pretty well anything that comes up. Just believe it and keep going.
See if you can harness the high energy to really make a difference, positively shaking up your life to get it more in line with your spirit.
Don't fear change, embrace it and see how strong you really are.
June 12th, 2021 § Comments Off on Tarot Card of the Day – 6/12/21 § permalink
Saturday, June 12, 2021
10 of Disks
You may have more physical prosperity than you thought. Look around and see the support that's there.
It's likely that the money or physical support or whatever it is you need is at hand and that those who said they were behind you really are.
Trust your family and loved ones, they really do have your back and were never going to let you fall.
Open yourself to abundance and you might be surprised at how much is there for you.
And when you prosper, don't forget to be generous. No one ever does it all on their own (even when we think we do). We all need each other, and it's through sharing that we discover our true wealth.
June 11th, 2021 § Comments Off on Moon in Cancer – High Priestess Dressed as the Charioteer § permalink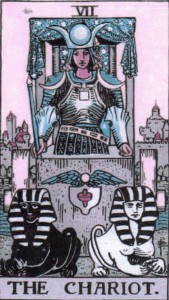 The Moon moves into Cancer today, and stays there until Sunday.
Looking at this transit through the lens of the Tarot, you might describe it as the High Priestess dressed in the clothing of the Charioteer. She's left the safety of her pillars and veil, and has hit the road.
The Moon in Cancer, or the High Priestess dressed as the Charioteer, can be a powerful time of comfortable change and emotional resilience.
Knowledge gathered in silence has coalesced and it's time to share without fear of being hurt.
Emotional loyalty, intuitive direction and strength of character can give you the resolve to go forward. Even into the unknown.
Try not to coddle yourself. You can only win if you have the courage to play to the end.
June 11th, 2021 § Comments Off on Tarot Card of the Day – 6/11/2021 § permalink
Friday, June 11, 2021
Ace of Cups
Emotional renewal is the name of the game today.  A new way of feeling about something and/or somebody is about to emerge.  Perhaps you're feeling it already – it's like that first hint of spring or when a magnolia tree finally blossoms after a long cold winter.
Joy and hope are in the air and accessible to you. Throw away any gloom you've been dragging around and wake up to the inspiration of postive emotions. There's a sense that anything can happen and it's probably going to be good. Be receptive to the love that's around you and give it back in kind.
June 10th, 2021 § Comments Off on The Devil § permalink
June 10th, 2021 § Comments Off on Tarot Card of the Day – 6/10/21 § permalink
Thursday, June 10, 2021
King of Cups
Compassion, emotional strength and mature love are key energies today. The King of Cups understands well the joys and sacrifices involved in relationships of all kinds.
Concern yourself with how others are feeling, what they need for support and how you might help. Through concern for the needs of others you might unexpectedly fulfill your own.
And if you know you're needing some assistance yourself but have been afraid to ask – get over it. Emotional generosity and support are there if you're willing to let someone help. But they have to know you need the help before they can offer it.