September 20th, 2019 § Comments Off on King of Wands § permalink
A Graffiti King of Wands (or Bats) …
September 20th, 2019 § Comments Off on Tarot Card of the Day – 9/20/19 § permalink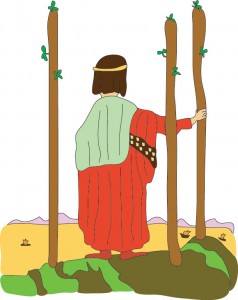 Friday, September 20, 2019
3 of Wands
Waiting and watching will probably be a bit of a preoccupation today. You've begun the process and have done all you can for the moment.
This might be a good time to review the steps you've taken so far. Make sure that you've got yourself balanced before the real journey begins.
Virtue is likely to be a key concept. Virtue here means being true to yourself within and between all your layers – mind, body and spirit.
Are your emotions in line with your thinking? Are you acting in a way that accurately reflects you're beliefs and feelings? Explore these questions and relax. Your ship will arrive soon.
September 19th, 2019 § Comments Off on Moon in Gemini – High Priestess Dressed as the Lovers' Angel § permalink
The Moon moves into Gemini today and will stay there until Sunday.
From a Tarot perspective, this transit would be like the High Priestess is dressed as the Lovers' Angel. She floats above the naked couple, blessing their sacred union.
The Moon in Gemini, or High Priestess dressed as the Lovers' angel, can be an emotionally confusing time, one where internal conflicts arise in order to be reconciled.
But it can also be a time of clarity, honest communication and almost intuitive understanding about yourself and those around you.
Quiet faith teams up with commitment and the Angels approve of the whole thing.
Try to keep your emotions in line with your reason. Going too far either way could disturb a really nice balance.
September 19th, 2019 § Comments Off on Tarot Card of the Day – 9/19/19 § permalink
Thursday, September 19, 2019
Ace of Disks
Start that new project now! I know it's just the beginning and you can hardly see how it's going to manifest, but manifest it will. The Ace of Disks is the seed that begins all new physical realities.
Is it a new job? A novel approach to an old one? Trying to get a project off the ground? Starting a new workout or eating regime?
It doesn't matter if you don't have all the details yet. What's important right now is to start working. Do it with the confidence that it's going to succeed – in the real world.
All great trips require a first step. This is the opportunity you've been waiting for. Take the step and start the journey.
September 18th, 2019 § Comments Off on The Empress § permalink
A Graffiti Empress …
September 18th, 2019 § Comments Off on Tarot Card of the Day – 9/18/19 § permalink
Wednesday, September 18, 2019
King of Cups
Compassion, emotional strength and mature love are key energies today. The King of Cups understands well the joys and sacrifices involved in relationships of all kinds.
Concern yourself with how others are feeling, what they need for support and how you might help. Through concern for the needs of others you might unexpectedly fulfill your own.
And if you know you're needing some assistance yourself but have been afraid to ask – get over it. Emotional generosity and support are there if you're willing to let someone help. But they have to know you need the help before they can offer it.
September 17th, 2019 § Comments Off on Moon in Taurus – High Priestess in the Hierophant's Clothing § permalink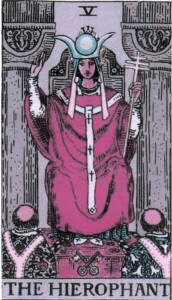 The Moon moves into Taurus today and stays there until Thursday.
If you look at this transit through the eyes of the Tarot, it would be like the High Priestess is dressed as the Hierophant. She's sitting before two acolytes and sharing the secrets she usually guards.
The Moon in Taurus, or High Priestess in the Hierophant's clothes, is a time of spiritual and emotional certitude.
There's a sense that the truth can be explained, understood and incorporated into daily life. Rules can and should be followed.
Instead of trying to force others to recognize what you know to be certain, try using this time to simply share your emotional, intellectual and spiritual perceptions.
Celebrate the diversity of spirit in our world, while figuring out for yourself what rules, spiritual or otherwise, work best for you.
September 17th, 2019 § Comments Off on Tarot Card of the Day – 9/17/19 § permalink
Tuesday, September 17, 2019
#8 – Justice
Today's themes are balance and justice. It might be time to stand up or into your own authority by being strong, sure and most importantly, just. This isn't the time to play around and think you'll get away with not doing your share. On the other hand, if you do the work required, the Justice energy is happy to reward you.
Have you been playing fair? It's not so much about the mundane rules as it is about the bigger universal justice. And it's not necessarily about 'work' per se, but rather the energies that you've been putting out there. Are you speaking up for what you believe in? Are you taking responsibility for your own life? Do you help others as you might expect them to help you?
What you send out is what you're likely to get back. This is karma in action and it's generally quite profound. On days when the Justice card appears, the karmic force is typically more obvious than usual. Look around and see if you can find it.
Take time to rebalance yourself, and if possible, find some time to get out into nature. It usually puts things into perspective pretty fast. Think carefully about your next move. It's what you've already done that has brought you to where you are now. What you do next will determine what you'll be reaping in your future. Try to make it something good for everyone.
September 16th, 2019 § Comments Off on Venus in Libra – the Empress in Justice's Clothes § permalink
Venus moved into Libra yesterday and will be there until October 8th.
From a Tarot perspective, this transit would be like the Empress is wearing the clothes of Justice. She's gotten tough and taken up the sword.
Venus in Libra, or the Empress in the clothes of Justice, is a time of creative realignment, a chance to lovingly balance what's most important in our lives.
Use this period to focus on what's working for you, especially in terms of your relationships. Not only between yourself and others, but also between yourself and the activities you engage in.
Are they leading to the results you set out for, or might this be a good time to prune back, and/or fertilize particular areas of your life's garden.
No need to be harsh, in fact, it's best to be gentle, but being decisive is important. With a clear mind and compassionate heart, you'll know what you have to do next.
September 16th, 2019 § Comments Off on Tarot Card of the Day – 9/16/19 § permalink
Monday, September 16, 2019
2 of Swords
This is a day to take your time and think things through – calmly and quietly. Trust your inner voice and let silence be your friend. There's probably a lot of emotion behind your thoughts these days. Try to keep balance.
Make sure you're not overthinking things. It's all about listening to both your logic and your intuition. Both have something to say to you right now. Try not to let your emotions sweep you away or your thoughts crush you down. You'll know what to do when you need to do it. No need to act right now, just sit.
Mental peace is the energy you'll discover in your quietude. Keep still. Keep calm. Your thoughts may be heavy, but you're more than strong enough to hold them.