July 26th, 2020 § Comments Off on The Lovers § permalink
Graffiti Lovers …
July 26th, 2020 § Comments Off on Tarot Card of the Day – 7/26/20 § permalink
Sunday, July 26, 2020
#1 – The Magician
Were you thinking of starting something new? This is the time to do it. The energy of The Magician encourages you to start fresh.
Look around – I bet you have all the tools you need for this new enterprise. It's only up to you to start making things happen.
Name your goal and start listing the steps you need to get there. Especially important is that first step. It can be big or small – just take it! You're at the very beginning right now, don't let the long journey ahead dissuade you from going forward.
You can't go back, so what the heck? Focus on what it is you want to achieve and you can make anything happen.
Beware though, don't try fooling yourself or others, there's no need for deception. It will only lead you down the wrong road right from the start. Stay true to your plan and keep yourself focused.
You can do what you need to without resorting to trickery or lies. It'll work out much better in the long run if you stick to the truth.
July 25th, 2020 § Comments Off on Moon in Libra – High Priestess in Justice's Clothing § permalink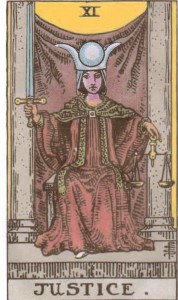 The Moon moves into Libra today, and will stay there until Monday.
Looking at this transit through the lens of the Tarot, it would be like the High Priestess is wearing Justice's clothing. She takes on the mantle of the Karmic Decider.
With the High Priestess as Justice, or the Moon in Libra, we might be required to face up to something and decide.
Our emotions will demand respect. If we've leaned too far back or forward, we'll probably find ourselves moving just as dramatically the other way.
It can be a slightly challenging period, perhaps a little manic. But by the time it's done, something is likely to have been decided upon.
Don't be alarmed by conflicting emotions. They're there because you can see both sides. It's not good enough though to just acknowledge them and walk away.
During this transit you're being asked to take a stand one way or another. And you've got the wisdom and power to do so.
July 25th, 2020 § Comments Off on Tarot Card of the Day – 7/25/20 § permalink
Saturday, July 25, 2020
Ace of Wands
The flame has been ignited and there's a new feeling floating around. This is a day to let inspiration lead the way.
Throw out your old excuses and start something you really care about. Passion and fire are what motivates the soul and it's time to listen to yours.
You might not yet know what's different but you know your old way of doing things is no longer possible. A new spirit has been planted and you can probably feel the excitement beginning to build.
Whatever it is that moves you with enthusiasm should be your starting point. Being true to your spirit isn't being selfish. It's what makes you fully human.
July 24th, 2020 § Comments Off on 2 of Disks § permalink
Graffiti 2 of Disks …
July 24th, 2020 § Comments Off on Tarot Card of the Day – 7/24/20 § permalink
Friday, July 24, 2020
4 of Disks
Money might be tough to come by, while time is even more precious. Wherever you look, though, it seems like someone else is asking for more. The tendency here is to gather yourself and your resources and go off alone to think.
Go ahead and do that if you'd like, but try not to get yourself too closed off. You probably have more than you think you do. Maybe even enough to share.
If you're being asked to spend on something that will help establish an even firmer foundation than you presently have, give it some serious thought. It might be more than you had anticipated, but the pay offs are probably well worth it.
Extravagant or foolish spending is not recommended, but remember the old adage – it takes money to make money. If you don't put it out there, be it actual money, your physical effort or something else you consider really important, nothing's coming back.
This is true about your emotions as well, don't hold them too close to the chest. Be generous with your heart. Remember, you get what you give.
July 23rd, 2020 § Comments Off on Sun in Leo – Sun in Strength's Clothing § permalink
The Sun moved into Leo, and will stay there until August 22nd.
If we look at this transit through the eyes of the Tarot, it's like the Sun Child is dressed in Strength's clothing.
He's traded in his horse for a lion, and has thrown on a light gown.
The Sun in Leo, or the Sun dressed in Strength's clothing is a time to shine. Even if you want to hide, there won't be many dark corners to crawl into.
Creative energies are high, as is the confidence to share what you create.
Don't be shy. As long as you keep your ego in check, it will be hard to go wrong.
Let openness and enthusiasm rule whatever it is you're engaged in. There's a lot of power in play, so enjoy.
July 23rd, 2020 § Comments Off on Tarot Card of the Day – 7/23/20 § permalink
Thursday, July 23, 2020
#3 – The Empress
Creation and the celebration of the senses are highlighted today. Art, food, music – anything that inspires our physical and emotional selves will inspire you and be well worth the time.
Nurture yourself and others. It'll probably be hard not to. Nurturance isn't just a luxury. You need to maintain and even increase your strength in order to create what you've been working on. Eat delicious, healthy foods, surround yourself with beauty, take warm, aromatic baths . . . it's all part of the Empress' path to creation.
If you've been dealing with issues surrounding motherhood, women, or femininity in general, this would be a great day to take a closer look. There's wonderful energy now to help you resolve issues you might have thought irresolvable.
July 22nd, 2020 § Comments Off on Moon in Virgo – High Priestess in the Hermit's Clothing § permalink
The Moon moved into Virgo and will be there until Saturday.
From a Tarot perspective, you might think of this transit as the High Priestess wearing the Hermit's clothes. She's putting on her cowl.
The Moon in Virgo, or High Priestess in the Hermit's clothing, is a time for practical, quiet reflection. Seeking the advice of an expert, and listening carefully to what they have to say could be worthwhile.
Or maybe someone will be asking you for your advice.
Your home is more important now than the outside world. Start thinking how to make it more practical. You might not be ready to do the work just yet, but this is a great time to plan.
Emotionally, it's a time of calm. Perfect for listening and reflecting rather than acting out in passion. Take your time. There's no rush.
Study, organization, contemplation, solitude, emotional self-reflection. Don't be afraid to be alone right now. There's lot's to do on your own.
July 22nd, 2020 § Comments Off on Tarot Card of the Day – 7/22/20 § permalink
Wednesday, July 22, 2020
3 of Disks
You've been working hard and the people that matter are starting to take notice. Take pride in doing a good job.
You're becoming a master at your trade, and mastery requires not only technical skill, but also an appreciation for the art in what you do.
When you care about your job or the tasks you've taken on, the work involved is rarely a chore. Look at your tasks as the creative processes they are.
Whatever you're doing, you're creating something, bringing something new into the world. Consider your role as creator with the seriousness it deserves.