October 14th, 2015 § 0 comments § permalink
December 18th, 2013 § 0 comments § permalink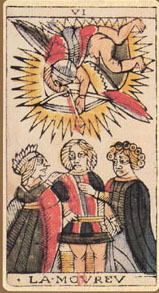 Here's a fabulous Graffiti Lovers' Card I came across last week.
With the three characters involved, it brings to mind the Lovers card from the Tarot of Marseille.
The Lovers are definitely about union and commitment, but they're also about choice.
November 4th, 2012 § 0 comments § permalink
Yesterday, I posted some pictures from a TarotSpotting mission outside of my house.
Today, I stayed inside but still found a Tarot card. It's the 3 of Cups …