January 26th, 2019 § Comments Off on 2 of Disks § permalink
A Graffiti 2 of Disks …
January 26th, 2019 § Comments Off on Tarot Card of the Day – 1/26/19 § permalink
Saturday, January 26, 2019
Queen of Cups
The energy today is full of nurturance and love. Let yourself give and receive. Share your feelings, your dreams and what it is that makes you human. Let your imagination run away with you (while holding on to reality if you can).
The Queen of Cups loves romance and laughter and beauty in all its forms. Take a leap into your emotional depths. Don't be afraid, you won't stay under too long. This Queen understands emotional limits – how to push them and how to pull them back gently without hurting anyone's feelings.
Today would be a great day to enjoy the company of loved ones. Or call or write them – one way or another, be sure they know you care.
January 25th, 2019 § Comments Off on Moon in Libra – High Priestess in Justice's Clothing § permalink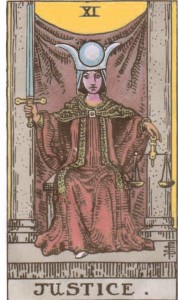 The Moon moves into Libra today, and will stay there until Sunday.
Looking at this transit through the lens of the Tarot, it would be like the High Priestess is wearing Justice's clothing. She takes on the mantle of the Karmic Decider.
With the High Priestess as Justice, or the Moon in Libra, we might be required to face up to something and decide.
Our emotions will demand respect. If we've leaned too far back or forward, we'll probably find ourselves moving just as dramatically the other way.
It can be a slightly challenging period, perhaps a little manic. But by the time it's done, something is likely to have been decided upon.
Don't be alarmed by conflicting emotions. They're there because you can see both sides. It's not good enough though to just acknowledge them and walk away.
During this transit you're being asked to take a stand one way or another. And you've got the wisdom and power to do so.
January 25th, 2019 § Comments Off on Tarot Card of the Day – 1/25/19 § permalink
Friday, January 25, 2019
#5 – The Hierophant
Spiritual questions and tradition are highlighted during this period. It's probably important to you now to look carefully at the spiritual structures in your life. Why do you believe what you do? Who are your spiritual authorities and what gives them their legitimacy? Who decides issues of morality for you, your family and/or your community?
Many of these questions are answered with cultural traditions. Today, you'll probably be examining whether or not the answers you're accustomed to are still satisfactory. They might be or they might not be. Don't be afraid to seek out your truth simply because it rubs against your comfort zone. Sometimes growth hurts a bit.
You might be asked to judge someone else's dispute, or find the need to go to an authority for answers yourself. Keep your mind open, but your skepticism on. Ultimately, you're the only one who can decide whether something makes sense for your life or not.
January 24th, 2019 § Comments Off on Mercury in Aquarius – Magician Dressed as the Star § permalink
Mercury will be moving back into Aquarius, and will stay there until February 10th.
From a Tarot perspective, this transit would be like the Magician is wearing the clothes of the Star. In other words, he's bare and in the dark.
Mercury in Aquarius, or the Magician dressed as the Star, can be a time of focused rejuvenation and empathetic communication.
It's safe now to share your feelings, hopes, and sadnesses.
And if doubt and confusion have created a stalemate, or a climate of distrust, you might soon start to feel a more easy flow, and reason for optimism.
Be open with your heart, and unafraid to speak with love. A few kind words can change everything.
January 24th, 2019 § Comments Off on Tarot Card of the Day – 1/24/19 § permalink
Thursday, January 24, 2019
3 of Cups
Celebrate with enthusiasm! Today is for fun and sharing. Friends are at the forefront, especially the ladies in your life.
Good times, good friends, good drink – it could be a pretty excellent day. Don't be afraid to be happy and remember to let people know how much you like them.
Take delight in music, poetry, painting – this is a time of inspiration and creativity. Social interaction with others will be invigorating and fruitful.
Let yourself get carried away by laughter and joy. Seek out the beautiful within yourself and those around you. You won't be disappointed if you do.
January 23rd, 2019 § Comments Off on Moon in Virgo – High Priestess in the Hermit's Clothing § permalink
The Moon moves into Virgo today and will be there until Friday.
From a Tarot perspective, you might think of this transit as the High Priestess wearing the Hermit's clothes. She's putting on her cowl.
The Moon in Virgo, or High Priestess in the Hermit's clothing, is a time for practical, quiet reflection. Seeking the advice of an expert, and listening carefully to what they have to say could be worthwhile.
Or maybe someone will be asking you for your advice.
Your home is more important now than the outside world. Start thinking how to make it more practical. You might not be ready to do the work just yet, but this is a great time to plan.
Emotionally, it's a time of calm. Perfect for listening and reflecting rather than acting out in passion. Take your time. There's no rush.
Study, organization, contemplation, solitude, emotional self-reflection. Don't be afraid to be alone right now. There's lot's to do on your own.
January 23rd, 2019 § Comments Off on Tarot Card of the Day – 1/23/19 § permalink
Wednesday, January 23, 2019
#3 – The Empress
Creation and the celebration of the senses are highlighted today. Art, food, music – anything that inspires our physical and emotional selves will inspire you and be well worth the time.
Nurture yourself and others. It'll probably be hard not to. Nurturance isn't just a luxury. You need to maintain and even increase your strength in order to create what you've been working on. Eat delicious, healthy foods, surround yourself with beauty, take warm, aromatic baths . . . it's all part of the Empress' path to creation.
If you've been dealing with issues surrounding motherhood, women, or femininity in general, this would be a great day to take a closer look. There's wonderful energy now to help you resolve issues you might have thought irresolvable.
January 22nd, 2019 § Comments Off on High Priestess § permalink
A Graffiti High Priestess …
January 22nd, 2019 § Comments Off on Tarot Card of the Day – 1/22/19 § permalink
Tuesday, January 22, 2019
King of Swords
Clear rational thinking is at the fore today. Is there something you need to take control of? Have you been wavering and wishy-washy lately? Stop procrastinating.
Focus, take charge and get it done. Have the courage to be clear and rational. Cut through the fog and let logic rule the day.
You know who you are, you know what you want and you're sure you deserve it. Go to it. But beware of dictating what's best for those around you.
You might know how to take care of yourself, but let others take care of their own lives, their own way.