April 30th, 2023 § Comments Off on Wheel of Fortune § permalink
A Graffiti Wheel …
April 30th, 2023 § Comments Off on Tarot Card of the Day – 4/30/23 § permalink
Sunday, April 30, 2023
Queen of Disks
It looks like you may have set yourself up just right. You've created the space you're in through determined effort and hard work.
Step by step you've manifested your own prosperity and this is a wonderful time to enjoy it. It hasn't always be easy but the rewards are well worth it.
Be generous with your prosperity, and kind to those that haven't quite done it yet. People might come to you for practical advice or help. Or maybe it will be you taking that step to approach a kindly soul who could help you.
Don't hesitate either to help or to ask for help. We're here for each other and create the most beautiful of worlds when we work together.
April 29th, 2023 § Comments Off on Moon in Virgo – High Priestess in the Hermit's Clothing § permalink
The Moon moved into Virgo and will be there until Tuesday.
From a Tarot perspective, you might think of this transit as the High Priestess wearing the Hermit's clothes. She's putting on her cowl.
The Moon in Virgo, or High Priestess in the Hermit's clothing, is a time for practical, quiet reflection. Seeking the advice of an expert, and listening carefully to what they have to say could be worthwhile.
Or maybe someone will be asking you for your advice.
Your home is more important now than the outside world. Start thinking how to make it more practical. You might not be ready to do the work just yet, but this is a great time to plan.
Emotionally, it's a time of calm. Perfect for listening and reflecting rather than acting out in passion. Take your time. There's no rush.
Study, organization, contemplation, solitude, emotional self-reflection. Don't be afraid to be alone right now. There's lot's to do on your own.
April 29th, 2023 § Comments Off on Tarot Card of the Day – 4/29/23 § permalink
Saturday, April 29, 2023
3 of Wands
Waiting and watching will probably be a bit of a preoccupation today. You've begun the process and have done all you can for the moment.
This might be a good time to review the steps you've taken so far. Make sure that you've got yourself balanced before the real journey begins.
Virtue is likely to be a key concept. Virtue here means being true to yourself within and between all your layers – mind, body and spirit.
Are your emotions in line with your thinking? Are you acting in a way that accurately reflects you're beliefs and feelings? Explore these questions and relax. Your ship will arrive soon.
April 28th, 2023 § Comments Off on Queen of Wands § permalink
A Graffiti Queen of Wands …
April 28th, 2023 § Comments Off on Tarot Card of the Day – 4/28/23 § permalink
Friday, April 28, 2023
Ace of Cups
Emotional renewal is the name of the game today. A new way of feeling about something and/or somebody is about to emerge. Perhaps you're feeling it already – it's like that first hint of spring or when a magnolia tree finally blossoms after a long cold winter.
Joy and hope are in the air and accessible to you. Throw away any gloom you've been dragging around and wake up to the inspiration of positive emotions. There's a sense that anything can happen and it's probably going to be good. Be receptive to the love that's around you and give it back in kind.
April 27th, 2023 § Comments Off on Moon in Leo – High Priestess in Strength's Clothing § permalink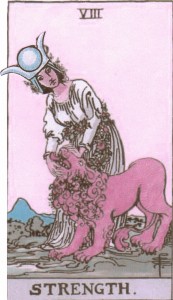 The Moon moves into Leo today and stays there until Saturday.
Translated into Tarot cards, this transit would be like the High Priestess is wearing Strength's clothing. She's thrown off her heavy cape and is spending some time outside with her lion.
The Moon in Leo, or High Priestess in Strength's clothing is potentially a time of emotional power. Something beautiful that's usually under wraps can finally be revealed.
The silence is broken. Quiet wisdom and passion can be united. During this time, it might be difficult to keep your ideas to yourself. But why should you?
Try finding an outlet for plans you've been sitting on? This is an opportunity to shine if you're not over-burdened by self-consciousness.
It might feel a little uncomfortable at first, but letting your wilder side out right now could be positive. The sun isn't always shining. Take advantage of it when it does.
April 27th, 2023 § Comments Off on Tarot Card of the Day – 4/27/23 § permalink
Thursday, April 27, 2023
#6 – The Lovers
Are there choices to be made? Decisions you've put off for another time? Well this is the time. The Lovers card asks us to finally make up our minds – either commit or get out now.
On a personal level, the Lovers reminds us to balance the opposites within ourselves. Are your ying and yang in sync? Does your conscious experience compliment your unconscious dream state or do they seem at war? Are you living a life that satisfies your soul?
Heavy questions, but this is a great day to think about them. In fact, you might find it difficult not to.
This is a serious commitment you're thinking about. To help you make up your mind, ask yourself which direction brings you closer to your soul's call. You probably already know the answer.
April 26th, 2023 § Comments Off on 2 of Disks § permalink
Graffiti 2 of Disks …
April 26th, 2023 § Comments Off on Tarot Card of the Day – 4/26/23 § permalink
Wednesday, April 26, 2023
9 of Disks
You've worked hard for your keep, with discipline and perseverance. Physically, some important goals are finally being achieved.
You're moving towards a place where you feel more at ease, towards a practical stability. The fruits of your labour can now be recognized and finally enjoyed.
Take some time today to quietly congratulate yourself. You've worked hard and deserve what you've received. Though the road hasn't always been easy, developing patience and inner strength will have proved well worth it.