November 30th, 2021 § Comments Off on The Sun § permalink
November 30th, 2021 § Comments Off on Tarot Card of the Day – 11/30/21 § permalink
Tuesday, November 30, 2021
10 of Cups
You feel full up with all the love around you. In fact, you might even be a little overwhelmed with how much you care and how loved you feel.
This is a happy time to be with your family or friends or whoever it is that makes up your social community.
You're probably nearing the end of an important emotional phase. Taking the time now to recognize and be grateful for all you have will help prepare you for the beginning of the next stage of your journey.
Celebrate with your loved ones, remembering with joy and humour all the good and not so good days that brought you to where you are now.
November 29th, 2021 § Comments Off on Moon in Libra – High Priestess in Justice's Clothing § permalink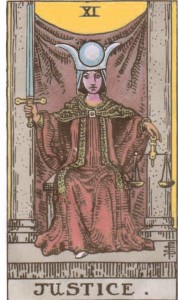 The Moon moves into Libra today, and will stay there until Wednesday.
Looking at this transit through the lens of the Tarot, it would be like the High Priestess is wearing Justice's clothing. She takes on the mantle of the Karmic Decider.
With the High Priestess as Justice, or the Moon in Libra, we might be required to face up to something and decide.
Our emotions will demand respect. If we've leaned too far back or forward, we'll probably find ourselves moving just as dramatically the other way.
It can be a slightly challenging period, perhaps a little manic. But by the time it's done, something is likely to have been decided upon.
Don't be alarmed by conflicting emotions. They're there because you can see both sides. It's not good enough though to just acknowledge them and walk away.
During this transit you're being asked to take a stand one way or another. And you've got the wisdom and power to do so.
November 29th, 2021 § Comments Off on Tarot Card of the Day – 11/29/21 § permalink
Monday, November 29, 2021
6 of Disks
The reckoning's done and it's finally time to dole out the rewards. Have you done your fair share? Are you ready to accept what's due?
Success is coming to those who have done what they can to manifest their goals. It may seem like manna from heaven but look again – it's more likely compensation for a job well done.
And don't forget to thank those who have been helping you. We're never alone in either our successes or our failures.
November 28th, 2021 § Comments Off on The Lovers § permalink
November 28th, 2021 § Comments Off on Tarot Card of the Day – 11/28/21 § permalink
Sunday, November 28, 2021
Prince of Disks
It's a good time to get to work. Nothing exciting, just keep moving forward step by step. It'll go a lot faster now that you're seriously on your way.
Enjoy this building process. You're making steady progress. If you keep moving like this, you'll reach your goals soon.
And if you're feeling a little dull because all you do is work, work and plan for more work, that's okay. That's what the energy is right now and you might as well go with it.
Creating stability is worth the effort. There'll be plenty of time for fun soon enough.
November 27th, 2021 § Comments Off on Moon in Virgo – High Priestess in the Hermit's Clothing § permalink
The Moon moved into Virgo and will be there until Monday.
From a Tarot perspective, you might think of this transit as the High Priestess wearing the Hermit's clothes. She's putting on her cowl.
The Moon in Virgo, or High Priestess in the Hermit's clothing, is a time for practical, quiet reflection. Seeking the advice of an expert, and listening carefully to what they have to say could be worthwhile.
Or maybe someone will be asking you for your advice.
Your home is more important now than the outside world. Start thinking how to make it more practical. You might not be ready to do the work just yet, but this is a great time to plan.
Emotionally, it's a time of calm. Perfect for listening and reflecting rather than acting out in passion. Take your time. There's no rush.
Study, organization, contemplation, solitude, emotional self-reflection. Don't be afraid to be alone right now. There's lot's to do on your own.
November 27th, 2021 § Comments Off on Tarot Card of the Day – 11/27/21 § permalink
Saturday, November 27, 2021
#17 – The Star
Optimism and rejuvenation are the themes for the day. Active generosity and compassion come easy so don't hold back. Give and you will receive.
Embrace the Universe's capacity to provide you with what you need when you need it most. That's what miracles are and the Star is the goddess of miracles.
If things have been tough lately, now's a time when you can finally lean back and take a bit of a break. Surround yourself with as much beauty as you can. It will help to replenish your soul.
Art, music, and the glory of the night sky are all worthy subjects of meditation. Let them fill you with the inspiration you need for the next leg of your journey.
November 26th, 2021 § Comments Off on The Star § permalink
November 26th, 2021 § Comments Off on Tarot Card of the Day – 11/26/21 § permalink
Friday, November 26, 2021
#9 – The Hermit
You might find yourself wanting to spend some time alone today. It's probably a good idea. Take time to look within and see what's up inside your soul.
Have things been moving pretty fast lately? Don't worry, it's finally going to slow down a bit, giving you a moment to clean house and tie up loose ends.
Trust your own experience through this period. It's through an examination of your own personal journey that you'll discover your inner wisdom. You probably know a lot more then you give yourself credit for. But you might need some silence to notice.
Give yourself permission to be quiet. You won't be missing anything by taking a break. It'll only make things more fun when you finally re-emerge from your cave.