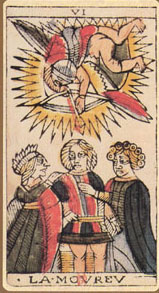 I posted a couple of cards last month from my slowly evolving Tabloid Tarot. Here's another one …
It's a first draft of #6, The Lovers. As you can see, it's inspired more by the Marseille deck than the Rider Waite Smith.
And don't forget … if you're in the mood for some celebrity Tarot readings, visit me at CelebEdge.ca. New clips are posted every week.